Back in January I was training on my hybrid marathon training plan which combined long runs, several races, hill training, and speed work.  The week ending January 15 marked my "highest week ever" (noted that way in my training log) with 63.25 miles.  Highlights of that week included a hill workout, 22 mile long run, and a decent 10K race.
My previous blog entry goes into great detail about the January 21 Ringling Bridge Run.  The week ending January 22 featured a 9 mile speed workout, some hill sprints, and the 26.2 mile run with the race in the middle.  That week ended with 57.45 miles.
I am going week by week for a reason here.  I wanted to share my build up to the February marathon so you can see the crazy hybrid training schedule I concocted. 

Last week of January I totaled 49 miles with a tough speed workout (600s!) and one of my best races in a while – the Newnan's Lake 15K in Gainesville (6:55 pace for 9.3 miles) which was followed by a 22 mile long run the next day.  Exhaustion was setting in but luckily it was taper time!
First week of February I had another good quality speed workout (800s this time), some 400s uphill, and took first overall female in the Run for the Manatees 5K.  Only 39 miles this week.  I was having some major IT band pain so I decided to switch to shoes with a little less stability to see if that would help.  I normally train in Brooks Adrenaline and decided to try the Brooks Ravenna.  Probably not the best idea a couple of weeks before my marathon but I didn't know what else to do at this point.  I stretch, get massage regularly, and had acupuncture.
Taper time!  I do not handle the taper very well.  But who does?  The week ending February 12 totaled 34.25 miles with a tempo run, a couple short runs at GMP (goal marathon pace), and the St. Pete Rock 'n' Roll Half Marathon which I ran at GMP.  It was tough to hold back during this race but I knew if I did not, I would ruin my chances at a decent marathon next week.  All this week I ran in the Brooks Ravenna (less stability).
Marathon week!  After two and a half weeks training in the Brooks Ravenna, my IT bands felt better but my left hamstring and TFL were so painful.  So bad that I decided I better run the marathon in my good old Brooks Adrenalines.  Race conditions were not ideal for the Five Points of Life Marathon in Gainesville.  It was super windy, extremely humid, hilly, and a small race so I often found myself alone with no one around to even think about drafting.  I felt very good through halfway and was exactly on my goal pace at 20 miles but that's when the good feelings blew away with the strong wind gusts.  My pace slowed every mile from 20 to the finish.  I even had to walk in the last mile.  I felt awful trying to ascend the final incline before the left turn to the finish line.  I know I looked as bad as I felt from expressions on the faces of my husband and friends at the finish.  My goal was to finish just under 3:30.  For some reason 3:30 has been a weird barrier for me in my last few marathons so I wanted to break it.  I finished in 3:39:46.  Of course I was disappointed.  I felt like I had trained so hard and so well for this.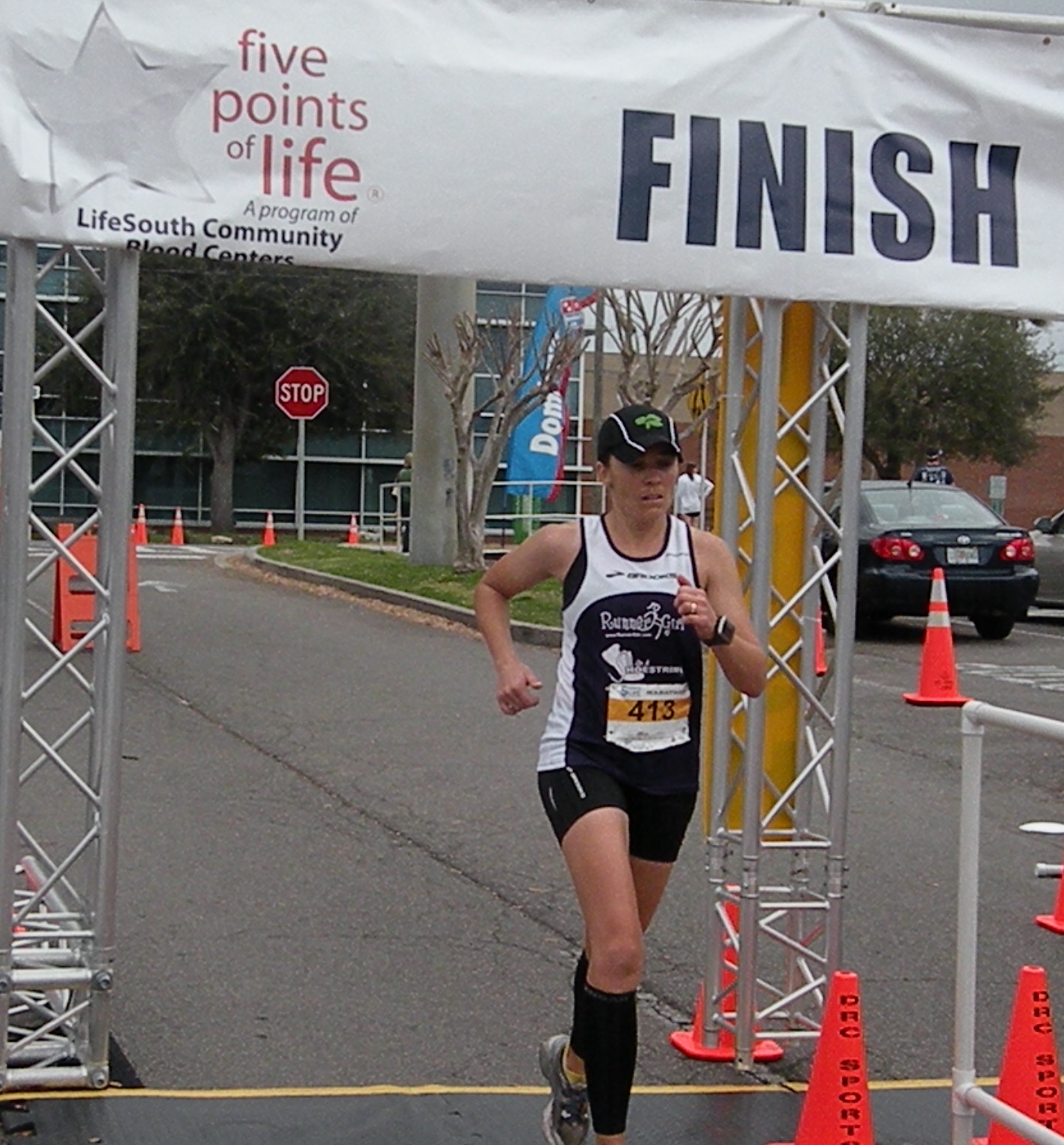 After I walked around for a while and came back to see the posted results, my mood immediately changed.  The winning female time was 3:20.  I was the second overall female and won $450!
After a week or so of recovery, I closed out February and started March with 30 miles including an 8 mile speed workout, a hilly trail tempo run, and the Gasparilla 8K where I finished 3rd overall female.  Since the marathon I had been back full time in my Brooks Adrenaline with no IT band pain but still some lingering left hamstring and TFL tightness and soreness that just would not respond to anything.  On March 11 Team RunnerGirl won the female division of the Sarasota Half Marathon Relay.  I ran the first leg which was about 6 miles and included the Ringling Bridge while my relay partner Kali ran the longer second leg.  It was our second relay together this year and this time we took home the gold.  What fun!  We had such a great time at this race with so many of our running friends from Team RunnerGirl – On A Shoestring – Brooks as well as Suncoast Striders and many of our local high school runners.
And then somewhere in mid March I decided I was going to do my first ultra…
Tags: Brooks, experiment of one, fun, Gu, inspiration, long run, races, relay, runnergirl, running clubs, running shoes, weather