Second marathon in my mission to join Marathon Maniacs. With an 18 miler one week ago, a 30K trail race two weeks ago, and a marathon three weeks ago, I knew trying to race Space Coast Marathon all out would not be wise. On top of that, I was sick for the past couple of weeks and my goal marathon is about eight weeks away: Inaugural Celebration Marathon. To join Marathon Maniacs, the minimum to become a member is to complete three marathons within 90 days.
My plan for Space Coast was to run comfortably around 8:40-8:45 pace to start then speed up and run negative splits. It has been so long since I have run negative splits and been able to finish strong in a marathon, I needed to not only remind myself but almost relearn how to pace myself early, hold back despite feeling good, and stick to a race plan. I was tempted by the 3:40:00 pace group and the 3:45:00 pace group. I could join the group and just hold on letting them do the pace work. But as a bit of a loner I decided to run my own race. I started out comfortably, letting the 3:40:00 pace group go by me. My Boston Qualifying (BQ) time is 3:45:00 now that I moved up to the 40-44 age group. In my mind I thought it would be nice if I ran a BQ and was able to stick to my race plan. At times during the first half I could hear the 3:45:00 group talking behind me but luckily they stayed behind me.
The first half of the race was comfortable which ended up being 8:30-8:40 pace and with the few rolling hills I clocked a few miles around 8:16-8:29 thanks to those down hills! I focused on hydrating, taking Gu every 45:00 or so, running comfortably, and happily watching my Garmin click off a nicely paced first half. At the halfway point we pass by the start/finish area so there are bigger crowds. The cheering and excitement of this area was where I picked it up too soon when I ran this race in 2011. Throughout the race I kept smiling and reminding myself of what I was trying to accomplish – a strategically paced race with negative splits. Once I hit mile 16 and then 18 I reminded myself again to stick with the pace. I told myself that once I reached mile 20 at the turn around I could let loose. I liked the fact that this was an out and back course because I was able to count all the women who were ahead of me by the time I reached mile 20. Once I started on the way back, my goal was to pass as many of them as possible.
There was a fairly strong head wind on the way back (last 6 miles) so I just focused on my targets ahead and did not worry about pace. I was having fun! I was tired but still felt strong and despite looking at my Garmin less and less I knew I was running faster. I must have passed at least 10-15 female marathoners in the last six miles. It was not always easy to tell because there were half marathoners on the course and some other women who were just out for a trainng run too. I don't know what all my splits were towards the end but mile 24 was 7:56 and mile 25 and 26 were 8:05. I definitely ran negative splits, finished strong, ran a BQ 3:40:39, finished 4th in my age group and 21st overall female. I did not win anything or run a PR (technically it is a masters PR but I won't go into that right now). I was so happy walking around the post race party area with my husband because I successfully executed my race plan, finished strong, and ran negative splits. Victory can have so many meanings.
I would definitely say the Space Coast Marathon was a mission accomplished!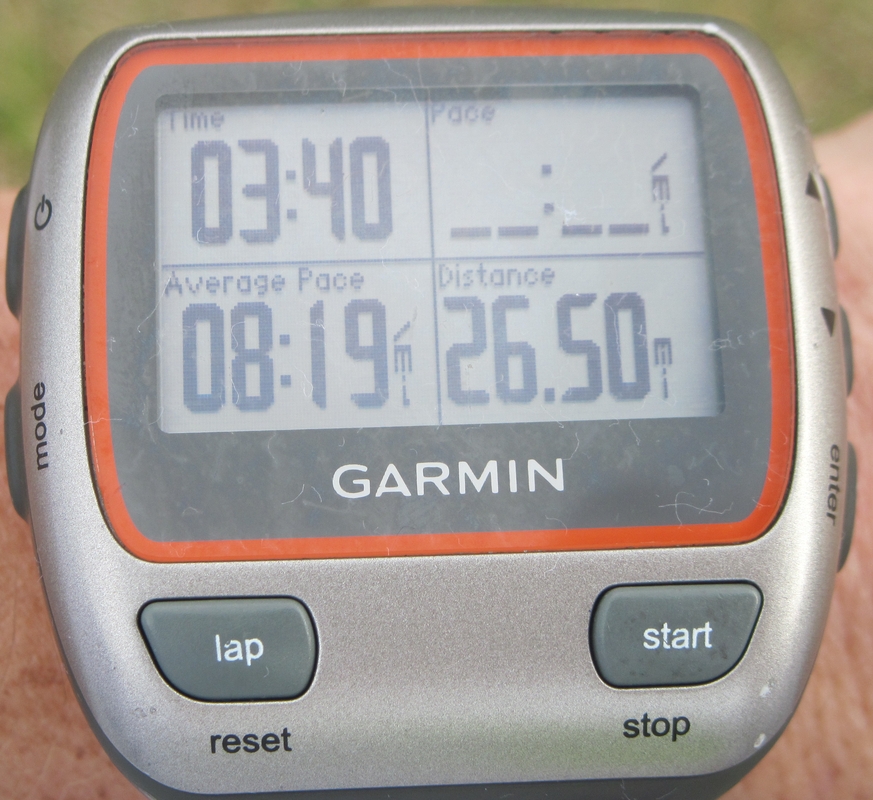 Tags: Brooks, experiment of one, marathon, mind over matter, races, runnergirl, trail racing