RunnerGirl's First Ultra! The Tornado Alley 57 Miler
Helping my hometown rebuild...
I am running the Tornado Alley 57 Miler which follows the path of the tornado that ripped through Western Massachusetts on June 1, 2011. This event benefits all the towns affected by the tornado, including my hometown of Monson, which was hit the hardest. It is designed to be a 6 person relay race but I decided to tackle the 57 miles as my first ever ultra event. On June 2, 2012 I will run from Main Street in Monson, MA to Maynard Field in Charlton, MA with my amazing husband as my crew.
While it may not be front page news anymore, the devastation and aftermath are still very real. Imagine losing everything. I know I can't.
The entry fees for the Tornado Alley 57 Miler will be distributed amongst all the towns affected by the tornado but my goal here is to raise additional funds to donate directly to my hometown of Monson. The town and the Church where I grew up were devastated. My family and friends were in the middle of it all. It was a scary time and even now, almost a year later, the town and the people are trying to recover. Homes were lost, landscapes scarred, and
it is my goal to help bring awareness and financial aid to this strong, amazing community where my life began.
Donations of every size do help tremendously! Thank you so much for your generosity.
Secure online donations may be made here:
http://active.com/donate/monson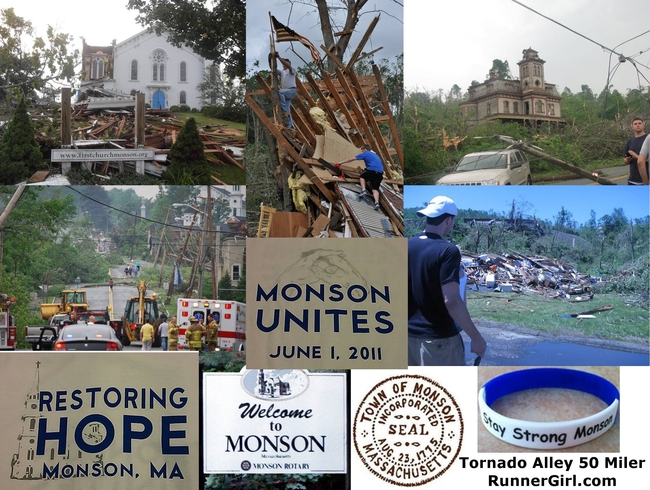 Complete race information including registration and a course map may be found at
botpp.org
Updated April 24, 2012