Addiction is a powerful thing. I am not sure exactly when it happened but suddenly I found myself wanting to run all the races! Between the Celebration Marathon in January and Boston Marathon in April, I raced nine times and even joined a new running club just so I could compete in their racing series. No wonder my hamstring injury never healed. After Boston I ran in four more races between the end of April and mid-July. I tried resting the hamstring for a week or two here and there and even went to physical therapy. Finally when I had finished the last of the Picnic Island Adventure Runs of the summer in July I decided to focus on getting healthy for marathon training.
I was set to begin the 18 week Hansons Marathon Method with a group of friends at the end of July. I knew I would not be able to handle marathon training with a hamstring injury. I followed the plan almost perfectly for weeks and weeks. I turned down invitations to race, which is difficult for me to do. I even had to skip one of my favorite summer cross country races. I trained consistently and did not race for 11 weeks. I even stopped having the urge to look at race calendars in running magazines.
Then it was time for the Tower of Terror 10 Miler at the beginning of October. "You are about to discover what lies beyond the fifth dimension, beyond the deepest, darkest corner of the imagination, in The Twilight Zone Tower of Terror™ 10 Miler!" Thanks Disney, I was already both scared and excited for this.
On one hand, I was really looking forward to it because my training had been solid and it would be a good test of my fitness. It is such a fun race; probably my favorite Disney race. But on the other hand, I was extra nervous about racing. Would this trigger my racing addiction? Would I revert back to the bad habit of over racing? I am happy to report that as of two months post-race, it has not. I have kept my racing calendar from filling up. I am staying focused on training properly and only racing when it fits in with my goals.
I think much of that success is due to the amazing time I had at the Tower of Terror 10 Miler. I hadn't raced in 11 weeks so I could only rely on my marathon training paces to guide me. I started conservatively but quickly sped up because I felt so comfortable. A little before halfway I knew I could really race it. I ended up running negative splits, finishing a little over a minute off my PR that was set 12 years ago. I was the 5th overall female and Masters Winner.
I am not sure if my addiction is racing, adrenalin, competition, or some combination, but let's just say that my competitiveness does seem to carry over to other areas like Toy Story Mania (the best game/ride in all the Disney parks). Perhaps moving into the Masters category has helped me mature as a runner because I definitely learn from my mistakes and train a lot smarter. It took one great race preceded by many weeks of patience, listening to my body, and good training in addition to some serious willpower to stop over racing.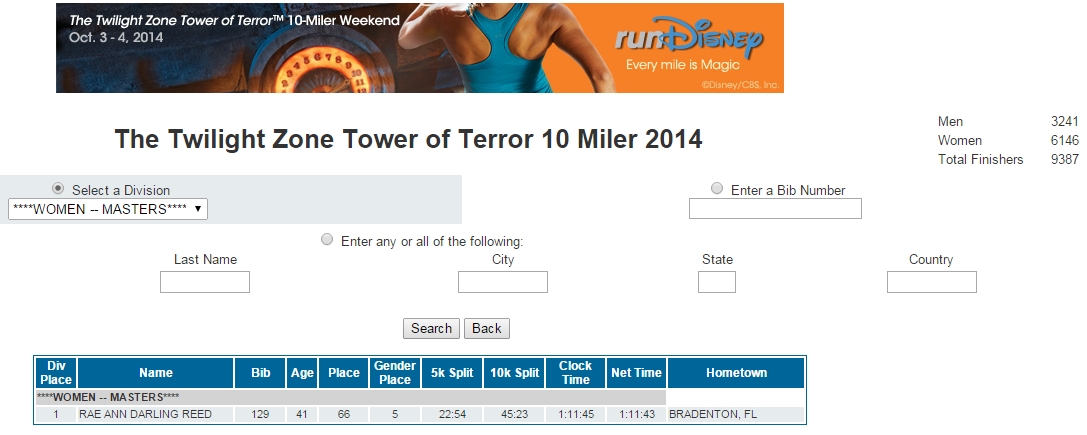 Tower of Terror 10 Miler Results
Running Journal – January 2015 – Page 3